I rustle through lots of bricks on a regular basis and here's some stuff that happened this week.
This image is legendary:
---
I assemble a *lot* of droids at work. This came to mind and had to make it #sorrynotsorry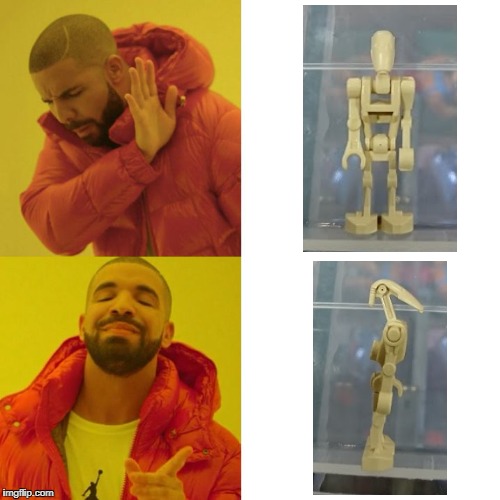 This can apply to lightsaber configuration, minifig hand orientation etc etc
---
On new year's eve VicLUG was invited back to the Provincial Museum of BC to participate in our second 'Early Shift' event. Last year we did mammoth habitats, and this year it was a more general animal habitat sort of thing. There was a series of nature photos on tour in the space we were in, along with many other attractions. We had a couple of different stations set up, one of mostly mocs and then another where we set up a terrain made out of system, Duplo and Primo. The public then populated it with critters or added to the terrain.
---
At our club Christmas party we do a vignette exchange every couple of years, alternating between that and ornaments. It's a secret Santa situation and you don't know who got who until the party, we have a little game to see how well we can match up who made what for who ( I did pretty well…. )
Here's all the vignettes lined up
I made this for a club member who works in big coffee. His name happens to be Joe as well, double pun (starting to look like a triple pun!)
---
Over the holidays we also did the local Nerdy Craft Fair for the first time. This is us setting up in the Santa Workshop area:
Here's a few pics of the fun, mostly actual Xmas sets but a few mocs scattered throughout including my gingerbread house. It really doesn't like to travel, but I recently added Mintbacca from the SW advent calendar so nice to have it doing the rounds.
---
Now we are getting ready for a 3 day Lego festival in a neighbouring town! My workshop is almost Death Star 2 state…. a mess but fully operational battle station. I will be unpacking and sorting from this move forever it feels!
A Lego Dimensions note, Toys R Us here has ~ nothing ~ left at the moment. Wartmall still has a good selection but all wave 3 stuff is original retail price. EB Games has some. It's not plentiful on local used sites except the starter packs.